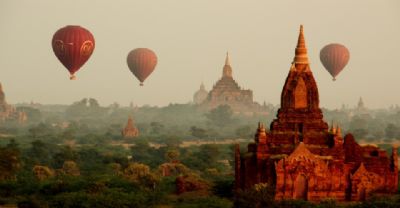 The magic of Bagan attracts and inspires travelers many centuries. Now there is a unique opportunity to examine the whole kingdom of Bagan that no one has seen before. Hot air balloon ride, the most incomparable thrills, which Bagan (Myanmar) can give you. Light breeze, smooth flight will open you the wonderful panorama view of Bagan. All flights have a specific route all round Bagan.
Hot air baloon ride begins early in the morning at sunrise and in the evening at sunset in Bagan. You will be taken from your hotel before dawn or before sunset by flight company representative. Start and landing place depends on wind direction. Numerous gilded roofs of temples and pagodas incredibly glow in the rays of the rising sun and covered with long shadows at sunset. İt is better to dress in comfortable casual or sportswear, suitable for recreation, season. Headgear is desired at any time of the year during baloon flight. As hot air baloon flight starts before sunrise, it is necessary to bear in mind that weather can be much colder than in the afternoon. Baloon launching depends on the weather conditions, sometimes it happens that ride is postponed to another day. Morning flights are more favorable than the evening due to weather conditions.
Average hot air baloon flight time is approximately about one hour, depending on the strength and speed of wind. The entire tour takes about two to three hours. It is better to plan ride after the first night there. If weather deterres from flying, you will have more time to make the baloon ride. Book flight a few days before trip to Bagan. Air baloon ride price per person is 300-400 dollars – 45 minutes/1,5 hours.
Hot air baloon ride is an unforgettable experience, positive emotions and breathtaking views of Bagan. You will never forget this adventure. This place is worth seeing, no trip to Myanmar would be considered complete without a balloon flight over the beautiful and historical Bagan.